Chrysler car and truck transmission repair and rebuilt transmissions
Chrysler transmissions from the 1956 Powerflite 2-speed transmission, 1060 A904 3-speed, 19921 4-speed automatic transmission to the 2005 6-speed longitudinal manual transmission have transformed over the years but each has their weaknesses and unique sets of problems that have been revealed over the years. Some of these transmission repairs only cost $200 - $400. But depending on what is wrong it could cost more or less. Chrysler transmissions are very delicate compared to other manufactures. They recommend using only one lubricant which is the ATF+4. Chrysler transmission repair shops are used to seeing the popular Continuous Variable transmission that are common in the Dodge and Jeep models. The CVT uses belts and pulleys and boasts a smoother transition between gears and better milage with the RPMs remaining at a constant and adjusts to the velocity of the car. The problem is that belts or chains can wear quicker than a gear driven tranny.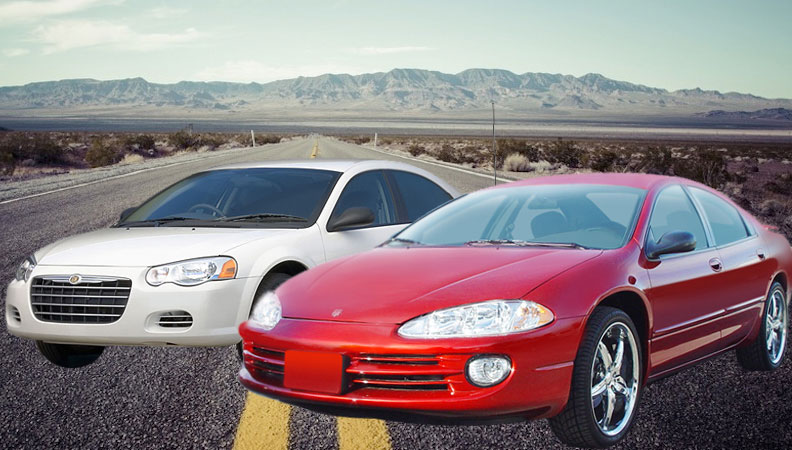 A common problem with Chrysler transmissions is a harsh thud sound when down shifting which can be the PCM or the underdrive clutch. The Chrysler Sebring from 1994 to 2008 have been known to have various transmission shifting problems which can be corrected by replacing parts. Like most cars, Chrysler has typical transmission problems such as fluid levels or the wrong oil put in by a transmission shop that hasn't taken the care to use the correct oil. Fluid leaks can cause a multitude of problems. Leaks occur when the seals in the transmission or overdrive shaft breakdown and cannot hold in the lubricant. Torque converter problems such as worn needle bearings occur which causes a metallic rubbing sound when you are engaged or shifting gears. Solenoid problems are also caused by leaks and lack of lubricant as you will feel the transmission slipping out of gear. It is also caused by electronic failures. If you don;t see oil on the driveway it is possible this is the problem.
Chrysler, Dodge and Plymouth 4-speed transmissions are the most common systems and if your car is not too old and you have driven it normally then chances are that you don't need a major repair or rebuilt transmission. The PCM may need replacement or reprogramming, solenoid packs, or ground straps may need replacing. It may also be a bad sensor, loose connections or a torque converter issue, some of which are not that costly. We want you to get back on the road and tell your family and friends that you found a reliable and trustworthy transmission repair shop so we will do our best to keep your cost down and keep you happy.